TOP 8 FEATURES OF A VIRTUAL RECEPTIONIST
Virtual Receptionists are real people. They are a dedicated remote team that can accomplish ANY task an in-house receptionist normally does over the phone. They provide excellent phone answering services. They can manage your calls and appointments the way an answering machine cannot. 
According to 2023 Market Watch research, the Virtual Receptionist Service market size is projected to reach multimillion USD by 2029, in comparison to 2021, at an unexpected CAGR during the Forecast Period 2022-2029. 
Business owners acknowledge the contribution of a Virtual Receptionist as a valuable company asset. Here are their top 10 functions and importance.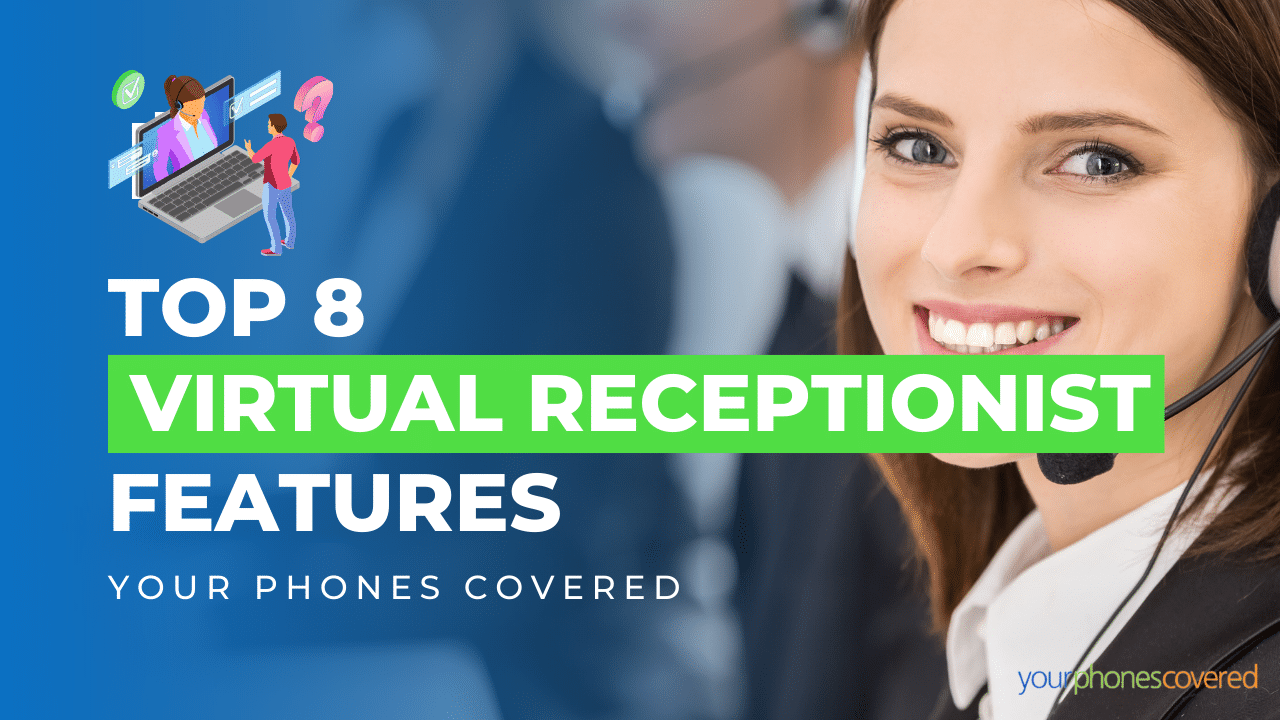 1. They solve the "Missed Call and No Voicemail Left" Problem 
Don't we all get annoyed when our calls are answered by an answering machine? Do you leave a Voicemail with all the info the Company you are calling needs to decide the priority of your call? Do your callers? 
A Virtual Receptionist can help you answer your calls when you are busy or when you can't get to the phone. A Virtual Receptionist will eliminate the no voicemail left missed calls. A Virtual Receptionist will find out who is calling, why they are calling, and the best number to call them back on. And they can do a lot more depending on your business needs. 
A Virtual Receptionist will reduce missed calls that might result in the loss of business for you.  
Do you spend your time listening to voicemails (IF there is one), calling people back and leaving voicemails because they don't answer, for them to call back and leave you a voicemail, and so on? Or worse still – they book elsewhere?
2. They help Increase Your Revenue  
A business owner's top priority is to grow their company. They know that a good customer experience leads to customers spending more. 
Your time is valuable. Investing in a Virtual Receptionist Service that can tend to your calls and manage your appointments allows you and your team to focus on income generating work, whilst still being confident in the knowledge that new clients calling in are being booked in and managed correctly. Even if the Virtual Receptionist does not book the caller in on that call they will capture and qualify new leads resulting in sales and revenue. If the call is missed and they don't speak to your business, will they call someone else? 
3. They help Decrease Your Costs 
Budget considerations are important, never so much so than today, particularly for small business owners. You simply can't do it all yourself. Hiring Staff is a costly proposition. Costs are not just their hourly rate (don't forget 10.5% super on top always now). What about hiring costs, advertising costs, interviewing costs, training costs, managing costs, insurance costs, WHS costs, office costs, wow – the list just goes on and on.  
Putting a Virtual Receptionist Solution in place will help maximise every dollar you spend on managing client calls. A Virtual Receptionist Service will save you money and don't forget – your virtual receptionist doesn't call in sick after a long weekend!!  
4. They can Schedule and Manage Your Appointments 
A good and flexible Virtual Receptionist will be able to handle any diary or customer management system. They can work with your systems and processes. They can book and manage your appointments as the caller calls in, securing new and existing business there and then for you. They make sure everything stays on track in your business.  
The last thing you want to be doing is stressing about an unanswered ringing phone when you are with a client. Wouldn't it be better to check your emails between appointments and see new appointments already booked whilst you were making money? No need to worry about losing potential clients and income. 
5. Help prioritise you and your Team's day 
Picture this, you are in the middle of finishing an important piece of work or a project when you get interrupted by a call. According to data collected by BusinessDIT, it takes an average of 24 minutes and 15 seconds to refocus after an interruption. It's estimated that the average worker is interrupted or distracted 11 times, which leads to a loss of 2.1 hours per workday. 
A Virtual Receptionist can help decrease interruptions and increase productivity. All you must do is find a good Phone Answering Provider to help manage your calls. A good virtual receptionist will triage your calls and transfer only the ones requiring your immediate attention (to your rules), allowing you to get things done. It's common for any business to encounter problems but distractions from phone calls shouldn't be one of the reasons. 
Imagine instead of taking a phone call you can just look at your email and then you can decide how important that message is and act accordingly – or even reply to your Virtual Receptionist with instructions on how to look after the caller on your behalf. 
6. Improved Customer Service 
A 2023 report says that 44.5% of companies compete based on customer service. With a Virtual Receptionist customer service is significantly improved. Calls are answered. The information you need to make decisions about how best to handle the caller is taken. The customers' expectations are managed according to your rules. If you provide the information and processes needed a Virtual Receptionist will be able to resolve a lot of calls, there and then – answering questions and even managing your appointments with your clients on your behalf. A good virtual receptionist is flexible and can respond to any information and instruction without compromising your business process.  
7. Helps with Reducing Stress & Work-Life Balance 
With the pressure of work and life in general, stress levels can be overwhelming. A virtual receptionist steps in to resolve customer service issues so you and your staff can spend your valuable time on something more important. They will reduce stress for you while providing quality service to your clients, giving you your sanity back.  
Choosing a good call answering service is important. It eliminates the stress of the telephone ringing. Your phones will be answered, and you have the decision to get back to them because someone already answered them for you. 
Having someone else handle your calls can save you a lot of time. The fact that you can delegate tasks to someone who treats customers as well as you do is a huge benefit. Besides, no one can argue with the old saying that customers are king and first impressions last. 
8. Increases Professional Image 
With a Virtual Receptionist, calls are going to be answered in a professional way.  When someone answers the phone and greets your customer in a welcoming voice with a proper landline number, you let them know that your company is a formal organisation. Managing reputation is an important part of growing your business. They can represent you the way you want, and their service will reflect the overall image of your brand. 
Have you used a phone answering service before? Are you looking for a Virtual Receptionist? Claim your free trial and start your business success in 2023.